Aroma Season Electric Heated Winter Gloves for Kids and Baby Mittens, Toddler Warm Waterproof Ski Snow Gloves. Our children like to go out and play in the winter. But the cold weather may hurt their delicate hands. If they have our Aroma Season heated gloves, they can easily protect their hands from getting frozen. It can provide our children´s hand with constant warmth for 10 hours and get them a whole happy winter.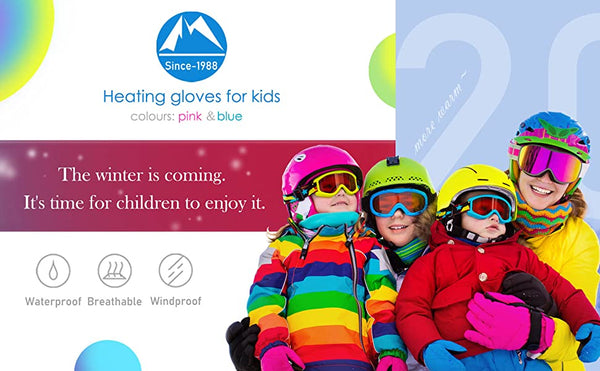 【Excellent Heating Function】- This is a rare heating glove for children. It can support 7 hours of high-level heating and 11 hours of low-level heating by the 7.4V 3000mAh Li-ion batteries. The gloves are suitable for kids between 5 and 14 years old.
【Good for playing outdoors】- The hand just keeps the warm inside of the gloves,which makes them perfect for outdoor winter activities and playing in the snow. Children will enjoy the winter full of outdoor games with these gloves.
【Water/Wind/Snow Resistant】- The special waterproof fabric and extra-long cuff keep the water from wind and snow out. Breathable Insulation holds the heat, always keep the hands warm and cozy.
【Adjustable 3 Levels Temperature Settings】- Provide a 3-level heat settings system, it is easy for your kids to adjust heat levels by short pressing the button on it. Red represents high temperature, blue represents medium temperature, green represents low temperature.
【Perfect Winter Gifts】- Innovatively designed, these premium gloves gently warm the palm and the back of the hand. Keeping children´s whole hands toasty for 10 hours even when battling freezing temperatures. No more cold fingers or wet hands. Now all you need to worry about is how to clean up all the mess they bring into the house.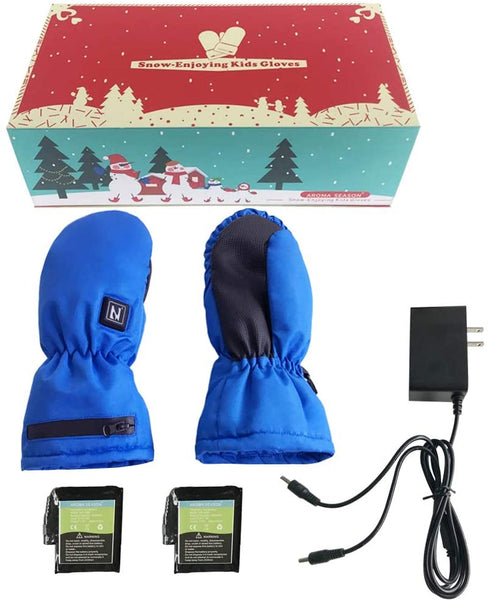 Cautions: Please do not use it in heavy rain or any other extremely bad weather like rainstorms, etc. Charging should be supervised by an adult.
Direction for use:
1. When you receive the gloves, the batteries are packed inside of the pocket of the gloves.
2.  Fully charge the batteries prior to its first use
3. Connect the DC plug inside of the gloves to batteries. Put batteries back into gloves. Close the zipper on gloves.
4. Wear the gloves, long-press the power button to start heating. The power button will light up.
5. Short press the power button to choose the heating level.
6. The gloves will stop heating in one hour automatically. To stop heating, long-press the power button.
Polymer Li-ion Battery for per glove: 7.4V, 3000mAh
To wash: Machine wash will damage the inside heated element. Brush clean is always recommended.