The Weighted Silk Sleep Mask is the perfect partner in your daily life.
100% Top Quality Silk that Will Enhance Your Sleep and Make You and Your Eyes Relaxed. Mulberry Silk is Naturally Breathable which allows healthy oxygen in, while keeping dry air out and Naturally Soothing To The Skin.
You can use it anywhere-in a bed, on a flight, on a long car ride, while camping etc.
Just lie down, let this eye pillow on your eye, and have a relaxing time!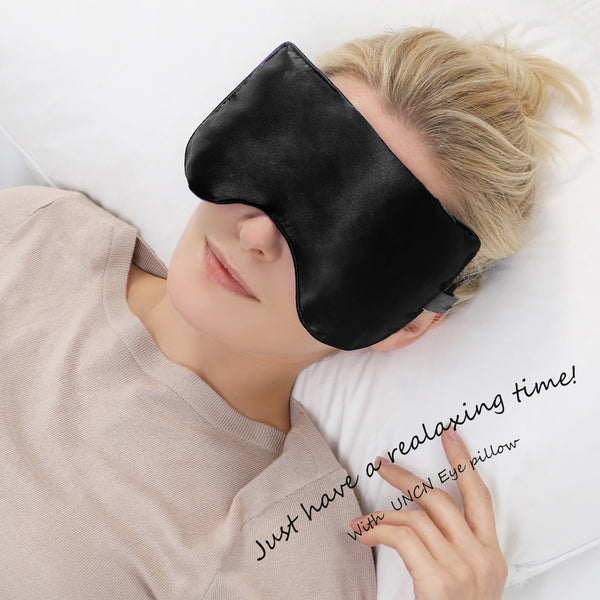 Features:
It can be heated in the microwave(cover removed). If you feel very tired with your eyes, you can just put the inner bag into the microwave and heat it for about 30s(with high power) then put it on your eyes to have a warm relaxing Spa.

For a cold compress, you can put the inner bag(sealed in a plastic bag) into the refrigerator for 1hour or just overnight, and it will soothe your eyes and help to wipe out tiredness.

This eye pillow can be used as a sleeping mask as well. You can take out the inner bag and use the luxurious silk cover as a sleeping mask. The soft and smooth silk cover will block the light and comfort you.

Its cover can be removed and washed by hand. There is a zipper attached to the cover so that you can take out the inner bag and wash the cover. The inner bag has a zipper too, and you can add in or take out some of the ingredients if you want.

We prepare some ingredients for you, including flaxseeds, lavender, and chamomile. You can decide what kinds of ingredients you add to get different weights and scents.

If you don't like any scents, you can put no herbs into the inner bag. If you only like the scent of lavender, you may just add some lavenders. But if you like something new, you can add all three kinds of ingredients.