Aroma Season Best Heated Gloves is ideal for winter skiing, snowboarding, snowmobile, snow shoveling, riding motorcycle, climbing, hiking, hunting, and mountaineering, etc.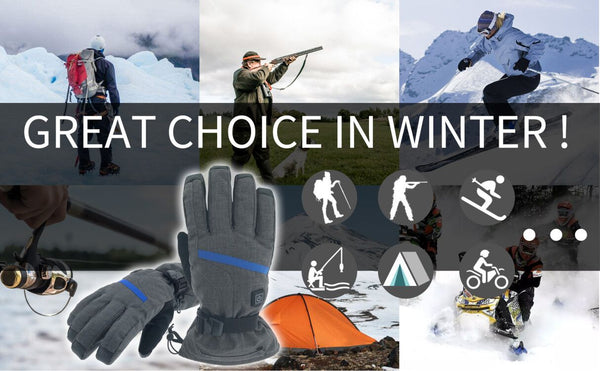 3 heat levels to choose
Aroma Season Rechargeable Battery Heated Gloves provide a 3-level heat settings system, easy to adjust by short pressing the button on gloves. Perfect for all kinds of outdoor activities and it is easy to adjust heat levels by short pressing the button on it.

Provide instant warmth for your hands
Both sides of the gloves can be heated, including your fingers, your hand back and your palm except your thumb. It takes 5 seconds to warm up and the heat will gradually spread from your fingers to the whole hands.
(Please note that the thumb is not heated.)
Rechargeable Heated Gloves Powered by 7. 4V Battery
Using 7.4V Polymer Li-ion Battery which is environment friendly to power the gloves and can heat for long hours. Batteries are placed in each glove's pocket when using it.
Special Hipora Insert
Breathable and waterproof.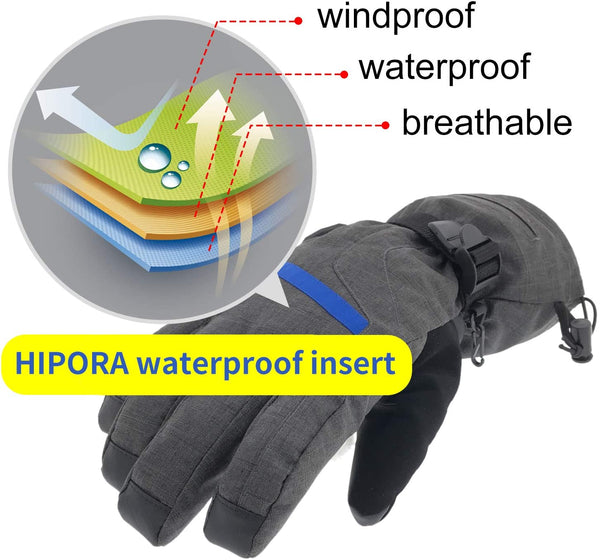 Instructions: 
1. Open the zipper on the gloves, plug the cable in the pocket to the batteries. Close the zipper.
2. Long press the button to power on. The button light will start changing the color from red to blue then green and finally stop at red.
3. Short press the button to have the heat set. Red indicates higher heat, Blue indicates medium heat, Green indicates low heat.
4.Long press the button to power off. Without any operation, the gloves will turn off automatically in one hour. 5 Plug two batteries to the adapter for recharging. It takes around 5-6 hours to fully charge the batteries.
Cautions: 
Keep batteries away from children. Do not open, modify, disassemble the battery pack. Do not expose the product to rain or water.
To wash: Machine wash will damage the inside heated element. Brush clean is always recommended.